NISSHIN-KOOSAN.Co.,Ltd.
Product : NHP Series Panel Saw

NHP series panel saw is a high precision cut saw supported by 30 years of operation to complete the high level of safety and handling.
Safety
handling
cut-face
perpendicularity
precision retention structure
These five themes are integrated into the NHP series perpendicular cut saw with our unique capability of development and technology. The rigid structure of NHP series panel saw is guaranteed for high precision cut.
Several optional accessories are available on 1. main shaft, 2. delay-start speed, 3. cutting thickness, 4. movable gauge, and 5. saw table dimension.
Advantages of NHP Series Panel Saw
The machine provides a stiff structural frame to keep precision machining.
The sliding surface of the saw table is made of cast iron dovetail groove integrated structure for vibration absorption and burr prevention on cut face.
The box type horizontal rail provides sufficient stiffness against heavy member.
The saw blade unit is balanced with weight via chain.
Sliding surface maintains steady running speed with automatic oil feed.
saw position is adjustable with a handle for each member producing no burr.
The buzz saw jumps in and out only during cutting and the blade operates inside the material clamp for safety
Delay-start speed is adjustable with a handle to accord with each member.
Quality cut face is obtainable on various members by adjusting the transfer speed and blade.
Adjustable Bakelite is used on the dead plate to prevent the friction wear.
Worn dead plate is adjustable
Saw return position is adjustable when cutting a short member to reduce waiting time for efficiency
NHP Series Panel Saw
NHP-5 (Standard)NHP-7 (w/ option)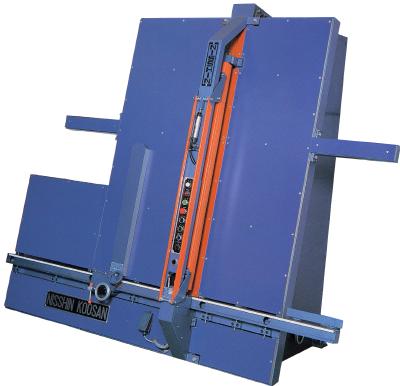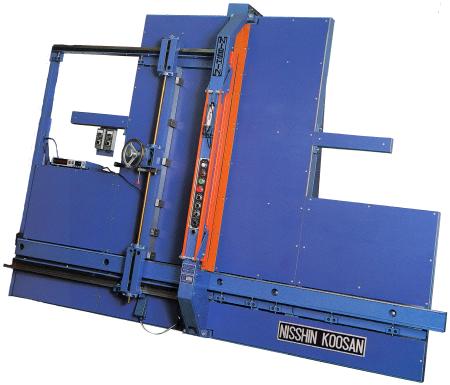 NHP-7 (w/ option)NHP-7TDS (w/ option)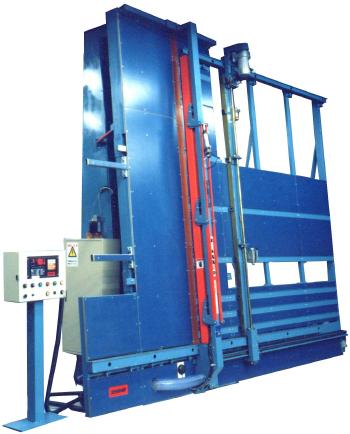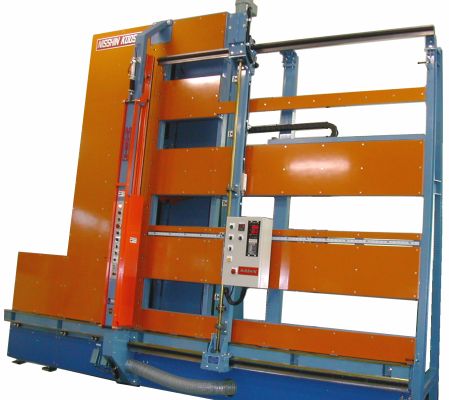 Option
| | |
| --- | --- |
| 1. High power box type horizontal gauge | 5. Saw table grooving for thin panel |
| 2. Through rack gauge | 6. High power mains shaft motor 5.5kw or 7.5kw |
| 3. Vertical gauge w/ digital measurer | 7. Cut speed inverter controller |
| 4. Computer controlled automatic gauge | 8. Main shaft motor inverter rotation controller |
Specification of NHP Series Panel Saw
Standard/Type
NHP-5
NHP-6
NHP-7
NHP-8
NHP-9
NHP-10
Cut length m/m
1,550
1,850
2,150
2,450
2,750
3,050
Left gauge valid cut width m/m
1,400
1,800
2,100
2,400
2,700
3,000
Cut thickness m/m
30*
Cut speed m/min
Inverter Controlled
Shaft rotation rpm
3,200(4,200)
Saw diameter
φ255,φ305*
Main motor
3.7kW
Transfer motor
0.75 w/ brake
Weight kg
1,500
1,600
1,700
1,850
1,950
2,150
Standard/Type
NHP-S5T
CustomNHP-8ATD
NHP-7TD
NHP-7TDS
Cut length m/m
1,450
2,450
2,100
Left gauge valid cut width m/m
1,400
Right gauge2,400
2,100
Right gauge2,100
Cut thickness m/m
70*
30*
70*
Cut speed m/min
Inverter Controlled
Shaft rotation rpm
3,200(4,200)
Inverter Controlled
3,200(4,200)
Saw diameter
φ255, φ305, φ355
φ255,φ305*
305φ, 330φ
305φ, 355φ
Main motor
5.5kWInverter Controlled
3.7kW
Transfer motor
0.75 w/ brake
Weight kg
1,900
2,000
1,700
2,400
Custom order accepted for your specific needs.
Specification, photo on catalogue may be changed without prior notice for improvement
(Present spec is right side gauge)
---